Bengaluru


INDIAN SPEECH AND HEARING ASSOCIATION – BENGALOORU CHAPTER
(Regd. Under the Karnataka Societies Registration 1960, Act. Registration No: SOR-SJR 45/07-08)
Bengaluru, the capital of Karnataka is a cosmopolitan city and an IT hub. For little over a time had been a front runner in the field of medical care. With high population density and easy access from many large cities, the necessity of healthcare grew exponentially. Bengaluru has four academic institutions offering speech & hearing training program and a numerous practicing professionals to cater to the need of the people with communication disability. Not to say, it needs innumerous more professionals and successfully can accommodate them too, making it a destination of many speech and hearing professionals.
The Indian Speech and Hearing Association – Bengalooru Chapter (ISHA-BC) was formulated by practicing Speech and Hearing professionals in Bengaluru as a registered body under the Societies of Registration Act vide registration No: SOR-SJR 45/07-08 in 2007. The first EC of ISHA-BC was comprised of Dr. M.N.Nagraja as President, Mr. Javara Nayaka as General Secretary, Dr.B.S.Premalatha as Treasurer and the EC members were, Dr. N.Shivashankar, Dr. G.Purushothama, Dr.Reddy Shivaprasad, Mrs.Radhika Pooviah, Mrs.Naga Poornima and Ms.Rama. The above members were also the founder members and subscribers to the memorandum of ISHA-BC. The logo of ISHA-BC depicts the southern tower installed as the southern boundary of the Kingdom by the once gloried ruler of Bangalore, Kempe Gowda around 1537 AD.
The first President of ISHA-BC was installed by (Late) Dr.Vijayalakshmi Basavaraj, who was the President of ISHA for the year 2007-08, as well as former Director, AIISH, Mysore on 4th November 2007.
42nd ISHACON was a feather in the cap of ISHA-BC. It was organized at NIMHANS, Bangalore from 22-24th Jan 2010 with a pre-conference CEP on 21st Jan 2010. The chief patrons for the conference were Dr.D.Nagaraja, Director, NIMHANS and Dr.S.R.Chandrashekar, Founder Director, Dr S.R.Chandrashekar Institute of Speech and Hearing, Bengaluru. The ISHACON was inaugurated by the Chief Guest, Sri. Suresh Kumar.S, Hon. Minister of Law & Parliamentary Affairs, Government of Karanataka in the presence of Nadoja Professor G. Venkatasubbiah, Lexoicographer, as guest of honor.
Various activities that have been conducted by the chapter from its inception till-date are given in the table. The chapter has been extending its financial support to the academic activities of the Speech and Hearing institutions in Bangalore. Recently, the chapter has compiled a directory of members of ISHA-BC.
"ISHA-BC with its energetic members under its wings promises to scale new heights".
EC committee members
President

Mr.M.S.J.Nayak

Past President

Dr.Madhuri Gore

President elect

Dr.N.Shivashankar

Secretary

Dr.Aravind Kumar R

Treasurer

Mr.M.Achaiah

EC members

Mr.SureshThontadarya

Dr.Pradeep Y

Mr.Avinash K

Mr.PrasannaHegde

Mr.Prasashthi R

Mr.Vishal K
Bihar
Speech and Hearing Association Bihar state Branch was established in 2016 and since its inception has been working towards creating awareness & management of Speech, Language and Communication Disorders. There are about more than 100 life members registered with Speech and Hearing Association Bihar state Branch. To keep pace with the latest development in this specialty and to meet the increasing awareness of the patients, it also becomes imperative to keep ourselves updated with the latest trend in the field.
Speech and Hearing Association Bihar state Branch is going to organize 2nd Annual conference on 16 th and 17 th March 2019 for audiologists and Speech pathologists. We are expecting over 100 participants from Bihar and neighboring states. This will cover various topics on Speech, Language and Hearing sciences. Some of the topics are going to be attended by other professionals as well like pediatrics and ENT specialists as well. We have applied for the Continuing Rehabilitation Education status from Rehabilitation Council of India for this event.
EXECUTIVE COUNCIL
PRESIDENT
Dr. Jawar Lal Sah
E-mail : drjlsah@yahoo.com
Mobile No : 9431457734
Secretary
Shri Sanjay Kumar
Email: ksanjnilpat@gmail.com
Mobile No. 9973541131
Dakshina Kannada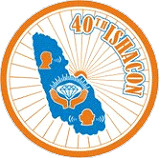 Professionals working in the fields of speech language pathology and audiology having their common geographic location of Dakshina Kannada have joined together to form Dakshina Kannada speech and hearing association. (DKSHA) The association has been registered vide registration number – of Karnataka societies act 1969. The registered office is located ar Dr. M.V. Shetty college of speech and hearing Maladi court, Panjemogaru, Mangalore 575013.
Aims and objectives of association;
To encourage scientific study of the process involved in speech-language and Hearing, to promote investigation of speech language and hearing disorders, foster improvement of therapeutic procedures for such disorders, to stimulate exchange of information among the persons thus engage and disseminate such information.
The management of association;
The affairs of the association shall be managed by an executive council (EC) consisting of twelve members elected at the annual general body (AGB) meetings and in accordance with the rules and regulations of the association annexed here with
Office bearers are;
EC members for the year 2016—18
President
Dr. Jayashree S. Bhat
Mobile: 9900514692
e-mail: bhatjs@yahoo.co.in
Secretary
Mr. Akhilesh P.M.
Mobile: 9448260826

Correspondence Address
Dr. M. V. Shetty College of Speech and Hearing,
Vidyanagar, Panjimogaru,
MANGALORE-57501
Gujarat
Registration:
Under Registration Act No. 29, Registration no. F/11413/Ahmedabad
Trust Registration Act 1860, Registration no. is Guj/11552/AM
Year of inception: 2005

The Executive Committee
President
Mr. Jitendra Patel
Secretary
Mr. Jignesh G Thakker
Email : thakkarjignesh32@yahoo.in
Jharkhand
EXECUTIVE COUNCIL
PRESIDENT
Mr. B Prasad

Secretary
Mr. SudhirBanu
Mobile No : 8986872989
Kerala

Audiology and Speech Pathology is a profession which deals with the early identification, evaluation, diagnosis and management of hearing, speech, language and voice disorders. The Kerala State Branch of Indian Speech, Language & Hearing Association (ISHA-KSB) was born on 31st December 2003 with the aim of streamlining the professional activities and to provide state of the art care to the speech and hearing impaired population. ISHA- Kerala State Branch is a registered body under societies registration act XX! Of 1860 with Reg. No. S. No: 1227/2003.

Within a short span of three years ISHA – KSB was instrumental in conducting many seminars, zonal conferences & camps. Starting with eight founder members three years ago, ISHA-KSB is successful in improving the professional activities in Kerala. ISHA-KSB proudly announces that it has 40 life members and 192 student members.
ISHA-KSB maintains register of members and holds Annual Convention in April / May each year. There are more than fifty Speech and Hearing Centres in Kerala, which offers speech, language and hearing services & five training institutions imparting education in bachelors degree in Audiology and Speech, Language Pathology in Kerala.
Executive Committee Members :
KSB EXECUTIVE COUNCIL MEMBERS 2018 – 2021(click here to view)
LISTS OF PRIVATE AUDIOLOGY & SPEECH THERAPY CLINICS / CENTERS BY REGISTERED PROFESSIONALS IN INDIAN SPEECH LANGUAGE & HEARING ASSOCIATION - KERALA STATE BRANCH [ISHA-KSB]
Madhya Pradesh
EXECUTIVE COUNCIL
PRESIDENT
Mr. Swami Sridhar
Mobile No : 9826063467
Secretary
Mr. Salaj Bhatnagar
E-mail : salajbhatnagar@hotmail.com
Mobile No : 9826020701
Maharashtra
MISHA was initially started as the alumni group of Speech and Hearing Professionals of T.N. Medical College, Nair Hospital Mumbai. Later it was registered as Maharashtra Branch of ISHA. It is more than twenty years old registered body, but as it happens in many organizations, MISHA was inactive and was revived in the year 2000, since then, MISHA has been actively working towards its goals.
In order to fulfill the commitments, MISHA has been organizing series of lectures, discussion forums. To highlight the few lectures, MISHA had arranged lectures on various subjects such as Language, Voice, Dysphasia, Fluency disorders, and consideration of Consumer Protection Act in Audiology and Speech Therapy Practice by the eminent speakers in the last five years.
MISHA has been celebrating Speech & Hearing week in the month of December regularly for last five years as per the guidelines of ISHA. The purpose is to create awareness among the people as well as among the medical professionals.
MISHA had organized the first regional conference in the country in Pune in August 2005.Second conference was in Mumbai in Dec 2007. Dr James Hall, eminent Audiologist From USA conducted one full day program on Electrophysiological Testing procedures and pitfalls in testing procedures.
It has been resolved that MISHA will organize Regional conferences every alternate year.
MISHA has successfully organized three ISHA conventions in the past, and every time it has taken ISHA at one ladder up under the able guidance of their office bearers and none the less Mr. R. K. Oza has always been the driving force of MISHA body, 41st ISHACON will not be an exception.
EC members
Ms. Deepa Valame-           President
Phone- +91 9223444720
Email id- deepa_valame@yahoo.co.in 
Ms. Priya Shah-                 President Elect
Ms. Suchita Oak-              Secretary
Phone- +91 9820556980
Email id- suchitaoak2310@gmail.com
Mr. Bhavin Shah-              Treasurer
Ms. Archana Acharya-      Executive Committee Member
Ms. Alpana Pagare-          Executive Committee Member
Mr. Sachin Patil-               Executive Committee Member
Manipal
President – Dr. B. Rajashekhar (b.raja@manipal.edu )
Vice-president – Dr. Venkataraja AIthal U(vrajaithal@manipal.edu )
Secretary – Dr. Hari Prakash P(hari.prakash@manipal.edu )
Treasurer – Dr. G. Kanaka (g.kanaka@manipal.edu )
EC members – Dr. Kishan M M(kishan.m@manipal.edu )
Dr. Sunila John(sunila.john@manipal.edu )
Ms. Rekha Patil(rekha.patil@manipal.edu )
Mysuru
EXECUTIVE COUNCIL
PRESIDENT
Dr. Asha Yathiraj
Email : ashayathiraj@gmail.com
Mobile : 9448219811
Secretary
Dr. SP Goswami
goswami16@gmail.com
Mobile No : 9480169216
Correspondence Address
Dr. SP Goswami
Secretary MyISHA,
All India Institute of Speech and Hearing
Manasagangothri, Mysuru - 570006.
Tamilnadu
EC members for the year 2016—18
President
Mr. S Manoharan
Mobile: 9444017289
e-mail: manoharas@gmail.com
Secretary
Dr. MP Ravanan.
E-maile: drravanan1970@yahoo.com

Telangana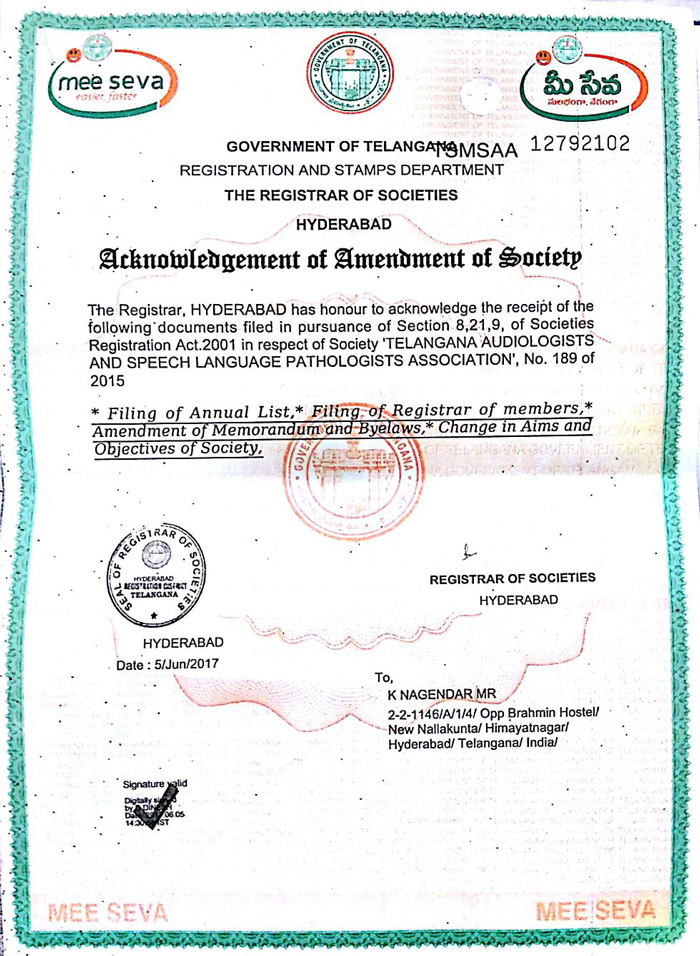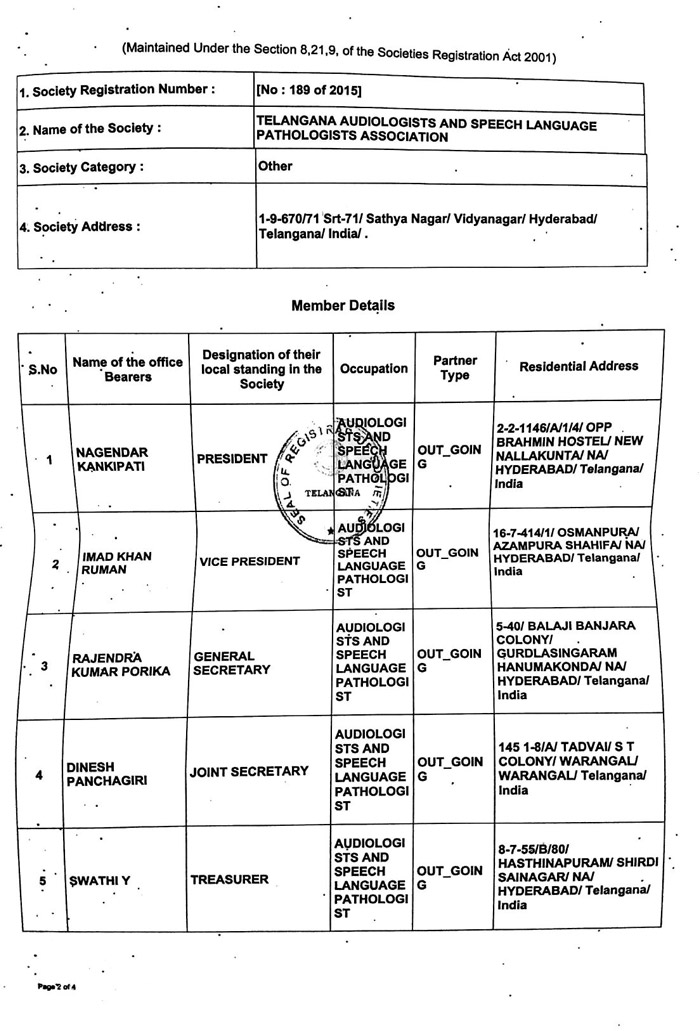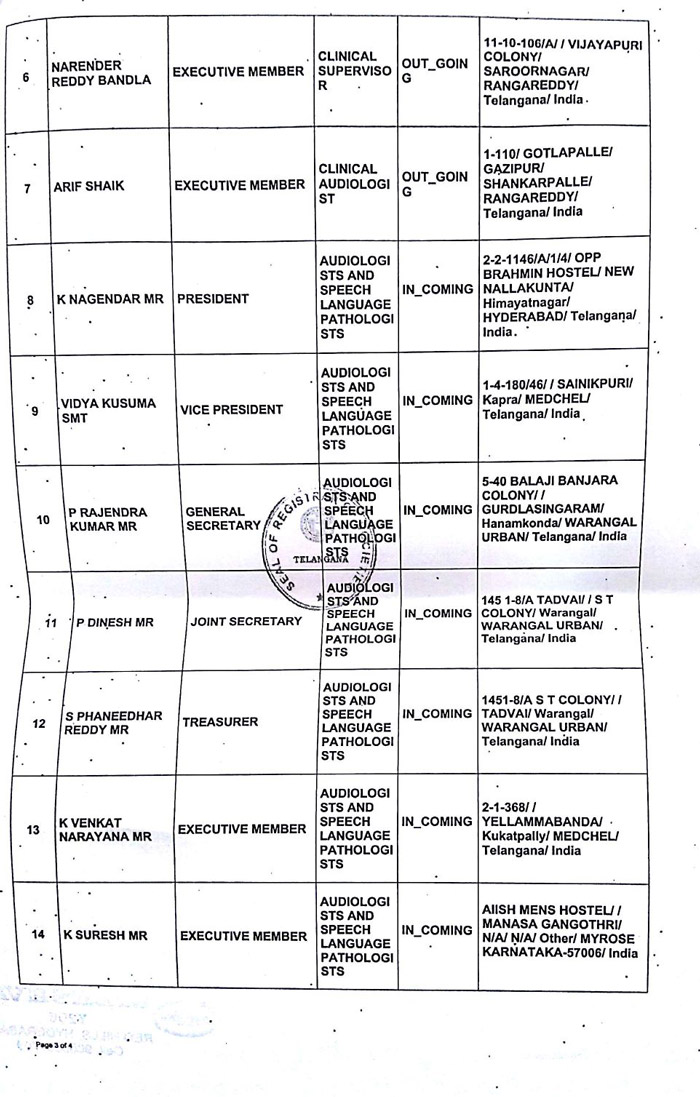 West Bengal
Cooming Soon